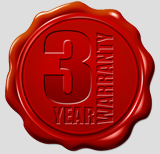 Designed By Colors 3 Year Paint Warranty
What is Covered:
•    Designed By Colors offers an exterior paint warranty that applies to customers that have chosen to use all recommended products and preparation techniques. The warranty covers peeling, blistering and chipping of the new paint film after application that is the result of defective workmanship.
•    Designed By Colors will repair any painted surface found to be defective due to poor workmanship for a period of 3 years from the completion date.
•    The warranty includes the costs of materials if originally supplied by Designed By Colors.
What is Not Covered:
The cost of any materials or products needed to do warranty repairs if the paints or materials where not supplied by or approved by Designed By Colors.
The paint warranty is void for the following items.
•    Paint defects caused by severe weather. (Hail, etc)
•    Normal wear and tear.
•    Abuse of any painted surface.
•    Painted surface in poor condition. (rough, loose, damaged, rotted wood)
•    Water/moister damage.
•    Severe or excessive peeling of previous coatings. (Note: warranty does not apply to previously applied paint that may loosen later.)